Admissions Principles
Weill Cornell Medical College (WCMC) seeks applicants who uphold the highest academic and personal standards. Each year the Committee on Admissions selects 106 students from approximately 7,000 applicants. The committee seeks students who are best prepared for future leadership roles in medicine. In addition to thorough preparation in the basic sciences, applicants should have a broad liberal arts education, with demonstrated accomplishment in the humanities and social sciences.
Selection Criteria
Premedical Curriculum
We encourage applicants to pursue premedical curricula that allow them to sample a broad range of academic disciplines, and to explore one or more areas in depth. All required premedical coursework should be completed by January 31 of the year for which admission is sought. 
Letters of Evaluation
Letters of evaluation play an important role in the committee's assessment of your application. Those who know you well personally should write these letters.
MCAT Scores
The committee regards the MCAT as a standardized tool that allows for one form of comparison among applicants. MCAT scores are considered as part of an application, but do not outweigh other components of the application. There are no cutoffs for MCAT scores. 
Extracurricular Activities
The committee is extremely interested in meaningful extracurricular activity participation, whether on- or off-campus. Such participation should demonstrate commitment and involvement, as evidenced by extension over time, leadership roles and accomplishments.  
Investigation in the Field of Medicine
We encourage applicants to explore medicine in some form before entering medical school. This exploration may take the form of research, volunteer activities in medicine, preceptor experiences in medical practices or laboratories, summer employment, etc. We are interested in meaningful, rather than perfunctory, participation. 
Research
The committee values applicants' research experiences, whether in basic science, social science or liberal arts. Research in biomedical sciences is encouraged.
Character
The practice of medicine requires the highest level of personal integrity. The committee seeks applicants whose characters are developing in a way conducive to the best practice of medicine which includes emotional maturity, personal depth, commitment to others' well-being, and ethical and moral integrity.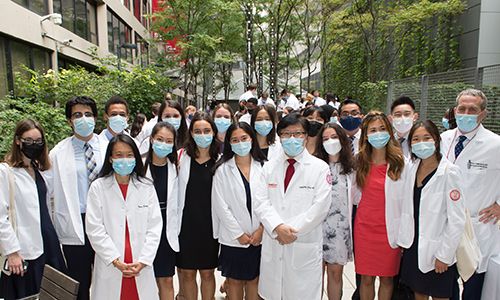 Interviews
Each year the committee members interview 700-750 applicants for the M.D. program, and around 70 for the M.D.-Ph.D. program. As we receive approximately 7,000 applications, only a small portion of applicants will be selected for interviews.
We interview for the M.D. program on Tuesdays and Thursdays. If you are offered an interview, we will notify you by email. The message will indicate available dates and times. If you are able to attend those dates and times, please confirm as soon as possible. If you are unable to attend, we are happy to arrange alternative times.
We will conduct virtual interviews in the 2023-2024 interview season. On the day of the interview, please plan to attend the following scheduled activities:
an informational meeting with an Admissions Dean or Director
Q&A with medical students
two interviews with members of the Committee on Admissions. The interviews, scheduled for 30 minutes each, are designed to provide you with an opportunity to discuss your decision to pursue a career in medicine, your preparation for medical school, and your life interests and experiences.
Requirements
Basic Sciences
WCMC requires two semesters or their equivalent, in biology, chemistry and physics. These will typically be comprehensive introductory courses with laboratory work. In biology, coursework will typically include molecular biology, cell biology and genetics. We recommend that students who have not majored in basic sciences take at least two terms of biological science beyond the introductory level.
Organic Chemistry
We recommend two semesters of organic chemistry, with lab, but we accept one semester of organic chemistry, with lab, and one semester of other advanced biology or chemistry coursework. Examples include biochemistry, physical chemistry, analytic chemistry, and molecular genetics.
Writing-Intensive Courses
WCMC requires two semesters of writing-intensive courses: one in the humanities or social sciences (e.g., history, philosophy, anthropology), and one focusing on English-language literature.
Laboratory Coursework
In some instances, actual laboratory work experience may be substituted for laboratory courses. 
Integrated Science Courses
Integrated science courses, that include biology, chemistry, physics and mathematical aspects of life sciences, may be substituted for coursework in the three basic science areas on a credit-hour-by-credit-hour basis. These courses should be rigorous, and competency in basic science content must be corroborated by achievement in other areas, such as advanced science courses, research and/or MCAT scores.
Breadth of Study
WCMC strongly encourages applicants to study a broad range of disciplines, including the humanities and social sciences, beyond the minimal requirements for admission. Of particular value in the modern practice of medicine are statistics, ethics, psychology, anthropology, sociology and management skills. 
Validity of Courses
To fulfill an admissions requirement, courses must have been satisfactorily completed within 10 years of application. We recommend that one or more advanced science course(s) be completed within five years of application. All required premedical coursework should be completed by January 31 of the year for which admission is sought.
Advanced Placement Credit
AP credit from high school can be used to satisfy the WCMC requirement in physics. AP credit in other areas cannot be used to satisfy the WCMC requirement. If a student has AP credit in an area other than physics, they fulfill the WCMC requirement by completing advanced science coursework.
Minimum Grade
The minimum grade in any course to fulfill a WCMC admissions requirement is "C".
Online Courses
In general, courses taken online will not be accepted to fulfill WCMC admissions requirements. Exceptions are considered on a case-by-case basis; in these instances, the applicant must provide evidence of rigorous coursework.
WCMC will accept Pass/Fail grades and online courses to fulfill prerequisites for courses taken from the Spring 2020 to Spring 2022 semesters.
College Level Examination Program (CLEP)
In general, scores on CLEP examinations may not be used to fulfill WCMC admissions requirements. Exceptions are considered on a case-by-case basis.
Courses Taken Outside of the U.S. and Canada
Course taken outside of the U.S. and Canada may be used to fulfill WCMC admissions requirements. We encourage applicants in this situation to undertake additional coursework in the U.S.
Second Language
WCMC encourages applicants to develop skills and, if possible, proficiency in a second language.
While most WCMC students will have completed undergraduate bachelor degrees before matriculating at the medical school, an undergraduate degree is not a prerequisite for acceptance or matriculation.