Community service and medicine are intrinsically linked components of student life at Weill Cornell Medical College (WCMC). Certain WCMC student groups focus entirely on providing healthcare for underserved communities, while others coordinate activities related to a particular field of interest. Our array of community service initiatives are almost entirely created and coordinated by students, and span a wide range of subjects including music, policy and advocacy, and fitness and health.
Community Service
Weill Cornell Community Service Program
Since 1989, student initiated volunteer projects in New York City have been a major feature of extracurricular life at the Medical College.  The Weill Cornell Community Service Program (WCCSP) is designed to assist medical students involved in community service and serves as an umbrella organization for the community service student-run organizations.  The mission of the program is two-fold: (1) to channel the talents and creativity of the medical students into existing non-profit organizations and (2) to help student organizations develop innovative approaches to education and health care.  The WCCSP aims to provide a wide range of service opportunities for the students making their experiences as rich and meaningful as possible.
The WCCSP begins the year with the Annual Community Service Fair, where students learn about the plethora of service opportunities at Weill Medical College.  Students can sign up for a number of on-going activities serving a variety of populations as well as one-day events.  In the fourth year, students who complete a comprehensive community service projects may apply for an MD with Honors in Service distinction.  Annually, medical students vote on which two community service groups will receive the Marcus M. Reidenberg, MD Award in Community Service. This award is to recognize the collective efforts of medical students for their outstanding involvement to the community.
To discuss your interests and available community service opportunities contact the Office of Community Service at 212-746-3390.
Blood Drive
In collaboration with the New York Blood Center, medical students organize a blood drive where staff, students, faculty, residents, and fellows can donate blood. The next blood drive is scheduled for Tuesday, February 18, 2020 from 12:00 pm to 6:00 pm.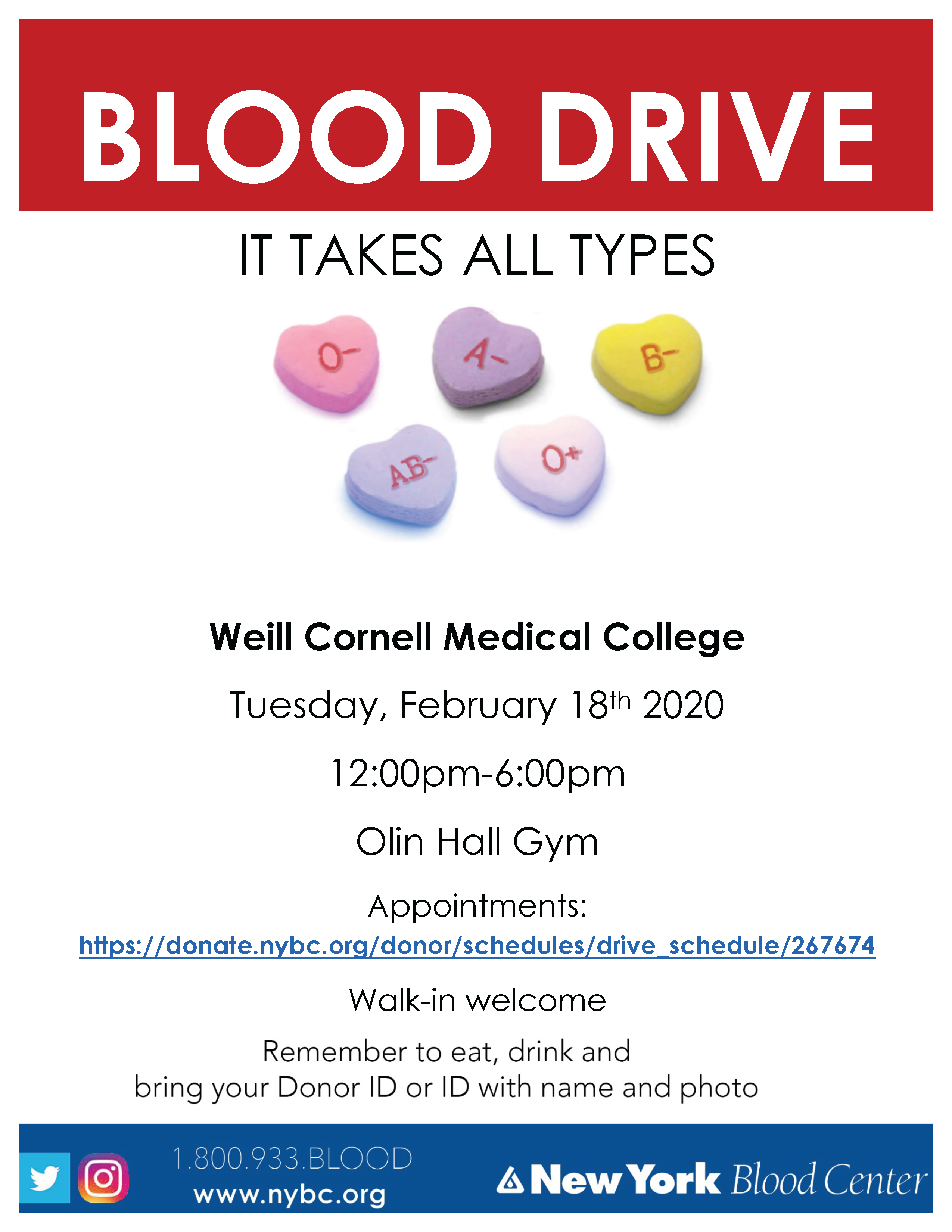 Camp Phoenix (CP)
Camp Phoenix is a student-run group founded in 2000 to provide a free, safe, nurturing, and stimulating environment for children (ages 7-17) who have been discharged from the burn unit of the hospital.  We are affiliated with the New York Firefighter Burn Center Foundation and the medical staff of the New York Presbyterian Hospital Burn Center.  The treatment and aftermath of surviving a serious burn can often include physical limitations, considerable stress, and diminished self-esteem.  Our goal is to provide a setting for children who have survived burn injuries to experience activities that every child rightfully deserves but might not be accessible due to their environment.  Positive interactions with other children with similar emotions will help replace a child's feelings of isolation and resentment with encouragement, understanding, and comfort about their situation.  These many benefits will extend outside the walls of our safe camp to help other aspects of a child's life, including their education, family-life, and even their physical health.  We want to give each child an opportunity to normalize their outlook on life and become the person of their dreams without physical or social limitations slowing them down.  We believe that the camp environment we will provide is a successful way to offer this chance to the children.
Chemistry 4 Kids
Chemistry for Kids is a club that caters to middle school students coming from underrepresented groups in the sciences.  We offer hands on experience performing supervised experiments like making liquid nitrogen ice cream, extracting DNA from strawberries, or building our own bridges.  Our goal is to provide an educational and fun experience where the basic principles of biology, chemistry and physics are explored.
Coat Drive
The Coat Drive is a city-wide effort run by New York Cares which aims to collect over 100,000 coats each year and distribute them to New Yorkers who need them most in these colder months. The number of children, families, and individuals throughout the city in need of warm coats is higher than ever. 
Cornell Water Society
The Cornell Water Society is a student-run organization dedicated to public health outreach via the installation and promotion of clean water solutions in underserved communities in the U.S. and abroad.  Our current project, MAJI KWA AFYA ("Water for Health"), is a collaborative effort between Weill Cornell Medicine students, the ASMK Foundation of Shinyanga, W.S. Darley & Company, H2OpenDoors, and Rotary International to bring clean, reliable, and affordable drinking water to the people of the Busiya Chiefdom in the Shinyanga region of western Tanzania.  Toward that end, we are currently conducting a research study on the efficacy of a solar-powered water pump recently installed in the community.  Our goal is to ensure sustainability of this and future projects through continued participation from Weill Cornell students, ensuring long-lasting safe drinking water for those who need it most.
Health 4 Life
Health 4 Life is a group that works with overweight or obese children and their families and carried out by New York Presbyterian Hospital.  Working together with pediatricians, nutritionists, social workers, and medical student volunteers help kids ages 7 - 18 learn how they can lead healthier lifestyles. The program meets for 8 consecutive weeks and consists of two major components: exercise and nutrition.  During the exercise portion, kids discover fun new ways to stay in shape, and receive pedometers so that they can track their steps outside of the program.  During the nutrition portion, the participants learn about the basics of nutrition and how to make healthy food choices through games and short lessons. Volunteers help with both components of the program, encouraging the kids to keep up the progress they are making, and helping to make the entire experience more enjoyable and entertaining. Volunteers have the opportunity to be role models, learn about great recipes that are easy, healthy, and fun to make, all while having a great time working with the kids.  Health 4 Life is a program that asks for minimum commitment and at the same time allows one to make a difference!
Heart-to-Heart Community Outreach Campaign
The Heart-to-Heart Community Outreach Campaign is a free health screening program carried out in New York City's underserved and minority communities by the Weill Cornell Medical College, Clinical and Translational Science Center (CTSC) and the Hunter School of Nursing. Our goal is to mobilize a primary care infrastructure and "bring the clinic to the community" to actively find new cases of undiagnosed and undertreated CVD, and then transition those participants to more permanent health care solutions. By using innovative tools, strategies, and immediate on-site personal consultations by healthcare professionals to reach those most in need, the program empowers participants to make beneficial lifestyle changes based on personal CVD risk. The Heart-to-Heart Campaign aims to transform the community into a partner in health by providing a model for community health engagement initiatives that leverages existing infrastructure to cast wider the net of health promotion and education.
Motivating Action through Community Health Outreach (MAChO)
MAChO is a holistic and innovative behavioral modification program designed to combat the childhood obesity epidemic at the grassroots level. The program targets middle school adolescents living in underserved communities. Our aim is to teach adolescents about nutrition and exercise through the lens of personal responsibility and practical tools for success in life. Although our immediate focus is on healthy choices in nutrition and exercise habits, we instill values and skills, which can be applied to other endeavors in life, such as schoolwork. We aim to work with parents, teachers, nutritionists and pediatricians to ensure that we are able to tailor our program to the specific needs of each participant, and to create a supportive ecosystem that fosters healthy living.  The program was originally designed through collaboration between students at Weill Medical College of Cornell University and staff at Settlement Health, a federally qualified community health center in East Harlem. Other individuals and establishments are also involved through the donation of time or resources to the program. We aim to build a sustainable program, which may be replicated in other neighborhoods or settings around the country, and have therefore been conscious of scalability of the model from the outset.
Peers Educating Peers about Sex (PEPS)
Love to teach? Want to make a direct impact on the lives of local teens? Join Peers Educating Peers about Sex (PEPS)! Through this student-run organization, we increase youth knowledge of safe sexual behaviors and personal hygiene. At a local high school, we teach a curriculum that highlights general pelvic anatomy (a great first year review!), female hygiene, healthy relationships, and safe sexual practices. How can you get involved? In the fall, we will be conducting trainings to teach workshops later in the semester. Come to our information session to learn more! 
Weill Cornell Center for Human Rights (WCCHR)
The Weill Cornell Center for Human Rights (WCCHR) is a faculty-supported student-run medical clinic dedicated to providing medical, gynecologic, and psychiatric evaluations and affidavits to victims of torture and abuse.  As part of our mission, we offer training to healthcare workers and education to community members on issues relating to torture and abuse.  WCCHR offers its services at no cost and works with the Weill Cornell Community Clinic (WCCC) (http://weill.cornell.edu/wccc/) to ensure long-term follow-up for clients who require on-going medical and psychiatric care.  It has been estimated that there are over 500,000 foreign-born torture survivors in the United States and approximately 20 percent (100,000) of them reside in the New York metropolitan area.  In an asylum proceeding, healthcare professionals are crucial in providing documentation of torture and abuse, yet few medical schools or residency programs have developed a curriculum to educate medical students and residents in evaluating survivors. The WCCHR was founded with the goal of meeting our professional obligations to this vulnerable group by providing much needed medico-legal support and by training medical student, residents, and practicing physicians how recognize and evaluate victims of torture and abuse.
Weill Cornell Community Clinic (WCCC)
The Weill Cornell Community Clinic (WCCC) is a student-led initiative that addresses the need for accessible and equitable healthcare for uninsured New York City residents while enhancing the philanthropic spirit of students and faculty at Weill Cornell Medical College.  The clinic operates on Monday evenings from 5pm until 8pm. Volunteer positions are available for students to practice taking a medical history and performing a physical examination under the direct supervision of an upperclassman and an attending physician.  The WCCC provides students with an excellent introduction to socioeconomic issues confronting the uninsured through its comprehensive care model.  In addition to a medical consultation, patients are offered on-site social work services, Medicaid screening interviews, no-charge laboratory services, no-charge medications, and discounted referrals to specialty services.  At the beginning of their first year, students are able to apply for WCCC leadership positions.
http://weill.cornell.edu/wccc/
Weill Cornell Medicine
Wellness Qlinic
The Weill Cornell Medicine Wellness Qlinic is a novel initiative to create a student-run clinic that focuses exclusively on addressing the existing mental health disparities seen in LGBTQ populations. To this end, our mission can be summarized by the following:
To provide free psychiatric care for LGBTQ-identifying people in NYC regardless of insurance status but emphasizing the uninsured and underinsured population

To advocate for and improve the quality of mental health care for LGBTQ individuals through educational and interventional outreach within New York City

To create meaningful opportunities for Weill Cornell medical students to learn about LGBTQ mental health concerns and to gain cultural competency
Pipeline Programs
Cornell Kids
Cornell Kids is an interactive science learning and mentoring community outreach project in which the members of the Student National Medical Association teach a group of 30-45 sixth to seventh grade students from the East Harlem School in Manhattan about basic human anatomy and physiology. Several teaching sessions are held, from January through May. The middle school students are taught basic physiology, pathology, and anatomy of the various organ systems. Topics include the circulatory, respiratory, gastrointestinal, and nervous systems. They also participate in an Anatomy lab where they can apply what they learned in class and hear about the needs and value of medical research. Medical student roles range from teaching, event planning and coordination to leadership within the group. We are looking to expand the project this year and are looking for fresh new ideas!
FNC Health Professions Mentorship
In collaboration with Cathedral High School and the Female Association for Clinicians, Educators, and Scientists (FACES), the FNC Health Professions Mentorship Program's mission is to provide students with the opportunity to interact with graduate students in the health field, learn of the various opportunities available to them in the health field, and reflect on their goals and how to conduct research. In FACES, fostering the education and early careers of female physicians and scientists is essential to our long-term success. By forming an integrated pipeline of female physicians and scientists at each stage of training, FACES aims to create a unique educational, mentorship and advocacy space for all women. FACES is committed to three key areas of action: outreach, community building and advocacy. Through outreach we aim to make the medical and scientific training paths more accessible to young women and girls by offering practical information, nurturing scientific curiosity and acting as mentors. FACES works to develop a community of female students and faculty that encourages retention, allows awareness of community resources and where each member has access to the wisdom of our collective experiences. Through our advocacy initiative, FACES generates and promotes programming and policies that support the advancement of female careers in science and medicine. 
Health Profession Recruitment/Exposure Program (HPREP)
The Health Professions Recruitment and Exposure Program (HPREP) was created in 1989 by Dr. Daniel Laroche, '92 when he was a medical student to increase the enrollment rate of students who are underrepresented in medicine and provide participants to interact with medical students, faculty, and health professionals. Dr. Laroche had then presented the program to the national Student National Medical Association (SNMA) conference where it was decided that the program should be in other medical schools under SNMA. HPREP is a ten-week program held on Friday afternoons beginning in January. High school students will hear from physicians and other health professionals speak on their path and work in small groups with medical students on write a personal statement, resume, and research paper and during an anatomy lab. In addition, students participate in practical workshops discussing the college application process, how to write a research paper, applying for financial aid, and writing a personal statement. The student with the best research paper and college essay are awarded each a $250 book scholarship for college. Each participant who completes the program receives a letter of recommendation and a certificate of completion.
For further information on these activities at Weill Cornell, please contact us at hprep@med.cornell.edu
How to apply:

Download the HPREP 2020 Application Instructionshere for complete instructions and the required Signature Form.
Click here for the online application.
Science and Medicine Enhancement Program (SMEP)
The Science and Medicine Enhancement Program (SMEP) provides middle school students with hands-on opportunities to learn about health and disease through a multi-subject approach. SMEP students are from the Science and Medicine Middle School, a school serving students from the Canarsie and East Flatbush communities in the Brooklyn, NY. In a series of sessions held at the Weill Cornell Medical College in Manhattan, NY, groups of 3-4 students led by medical students work on hands-on group and individual activities designed to reinforce basic concepts in basic biology, physiology, pathophysiology and healthy living related to the diseases and health conditions that most affect the students' communities. During the program, students also engage with material through reading, research, persuasive writing, presentations and clinical skill sessions. The program culminates with students presenting and leading demonstration tables related to various curricular topics at a Community Health Fair held at the Science and Medicine Middle School.
Weill Cornell Youth Scholars Program (WCYSP)
The main purpose of the Weill Cornell Youth Scholars Program (WCYSP) is to expose underprivileged, underrepresented students, especially from inner city high schools, to the vast educational resources and opportunities at Weill Cornell Medical College and New York Presbyterian Hospital. Many of these high schools have exceptionally high drop out rates that coincide with low percentages of graduates that go on to attend a four-year university. By developing early experiences in medicine, students can develop appropriate attitudes towards their education, interpersonal skills and, more importantly, confidence in themselves to succeed academically. The WCYSP curriculum is designed to educate, inspire and groom participants for personal and professional success. We seek to address some of the weaknesses that prevent many inner-city students from performing well at the college level through an innovative format that emphasizes critical reading and writing. Our daily Problem Based Learning (PBL) sessions provide a forum for youth scholars to interact with one another and build their teamwork abilities. All high school students that completed the program reported that it had a significant impact on their personal motivation to pursue a career in science or medicine and are more motivated to take more challenging courses in high school. Weill Cornell medical students, residents and attending physicians serve as mentors and teachers in the program. Volunteer teachers can choose one or more topics and will be given lecture notes and PowerPoint slides that are already prepared for each topic. The program runs for one month every July from Tuesday to Friday. Typically, each lecturer will give one to two one-hour lectures, but if they choose they can volunteer more of their time. We also recruit new leadership every year to plan the next summer's program under the guidance of leaders from the previous year.
For further information on these activities at Weill Cornell, please contact studentdiversity@med.cornell.edu.
We regret to inform you that due to COVID-19, this year's WCYSP is cancelled. We plan to open applications for the WCYSP 2021 program in the Spring of 2021.
Women in Medicine's High School - Medical School Mentorship Program
The High School - Medical School Mentorship Program is a collaboration between the Weill Cornell Medical College Women in Medicine (WIM) and the Young Women in Bio organizations. This program strives to provide academic and career guidance and encouragement to young women who have demonstrated interest and excellence in science from diverse high schools across New York City. Three high school students are coupled with three female medical school students as a mentoring group. The groups meet both formally through organized WIM events and informally as questions or ideas arise. The small group structure allows for broader perspectives to be shared while also encouraging interaction between high school and medical school women from different backgrounds with similar interests.  The primary goal is to encourage high school students to pursue their studies in science and medicine by providing support and answering questions using first hand experiences. The collaboration also enriches the WIM program by allowing students to function as mentors.
Career Interest Group
Association of Women Surgeons
Association of Women Surgeons (AWS) is a national organization, with a newly founded chapter at Cornell, whose goal is to promote and support women in all surgical fields. Women have historically been underrepresented in surgical specialties and face unique challenges in surgical careers. Our mission is to create an environment where female medical students can learn about and begin to experience surgery through women's perspectives. We run a mentorship and shadowing program where we connect medical students with female surgeons in their surgical specialty of choice. We also will be having match panels with 4th year medical students, dinners with female surgical attendings and residents, and workshops to practice surgical techniques. 
Brain Interest Group (BIG)
The Brain Interest Group, or BIG, as it is informally known, was founded in October 2000 to create a forum for medical students (and faculty) to learn about the myriad ideas, discoveries, and career opportunities surrounding the medical fields relating to the brain and the mind.  Bringing together the diverse talents of the neurology, psychiatry and neurological surgery faculty and the intellectual interests of an eclectic group of students BIG has created a unique forum where students and faculty alike can explore the world of brain-related medical science.  Unique in its interdisciplinary approach, BIG has capitalized on the extraordinary level of student interest in the brain and mind field.  BIG programs were among the most well attended student-organized event last year.  In the coming 2016-2017 academic year, BIG will collaborate with the departments of psychiatry, neurology, and neurosurgery to engage students in cutting-edge research and service opportunities surrounding diseases of the brain.
Cornell ENT Society (cENTS)
The Cornell ENT Society is a group promoting interest in the field of Otolaryngology (Ear, Nose and Throat).  This also includes Head and Neck Surgery, Facial Plastic and Reconstructive Surgery, Head and Neck Cancer, and many other related fields.  We offer chances to get to know faculty and residents in the highly ranked ENT program at Cornell, including how to pursue a residency in this competitive field.  We also seek to educate medical students about the daily life of an ENT, as well as many other aspects of this fascinating surgical subspecialty.
CSKILLS
CSKILLS teaches a wide range of clinical skills and is taught in separate modules throughout the preclinical years of medical school. Each module will be taught in conjunction with the medical school curriculum to enhance the learning process by fostering interest in essential clinical procedures. In order to better prepare students for clinical clerkships, the program provides opportunity to practice these skills longitudinally throughout the pre-clinical years. By the completion of the program, students will have demonstrated competence in many essential skills and procedures that will render them more comfortable and effective in a clinical setting.
Dermatology Interest Group (DIG)
Dermatology Interest Group is committed to introducing medical students to the field of dermatology and relevant subspecialties as future careers in medicine. We plan events focused on demonstrating the wide variety of dermatological specialties and helping interested students become familiar with the application process to dermatology residency. 
Dimensionworks
Dimensionworks is a Biomedical Design Interest Group, that focuses on the use of 3D printing as a tool for designing and prototyping materials for use in research and clinical medicine. This group provides trainings on operating a 3D printer and classes on biomedical design. Through the Medical School Executive Council, students also have access to a 3D printer, currently housed in the Samuel J. Wood (WCMC) Library. Dimensionworks hopes to encourage and enhance, broad critical thinking, creativity, and innovation in the students of Weill Cornell.
Emergency Medicine Interest Group (EMIG)
The Emergency Medicine Interest Group (EMIG) focuses on giving students insight and skills needed to succeed at emergency medicine and beyond. Our past events have include lectures on Wilderness Medicine and workshops where students learn the basics of intubation, suturing, and venipuncture. Additionally, we host discussion panels where current medical students have the opportunity to ask current emergency residents and fourth-year students matched into emergency medicine, and ask questions about life and success in the field. EMIG provides a forum for students, faculty, residents, and attendings that share a common interest in emergency medicine. 
Family Medicine Interest Group (FMIG)
The goals of the FMIG are to foster awareness of the need for more primary care physicians, to educate students about the field of family medicine, to present issues that are commonly faced by primary care doctors, and to attract more students to the field.  Our faculty advisor and the Director of the Program in Family Medicine is Dana Spivak, MD. Dr. Spivak is also a Family Physician at The Brooklyn Hospital Center and Assistant Professor of Family Medicine in Clinical Medicine at Weill Cornell Medical College. By hosting speakers, panels, and workshops, we hope to provide exposure to diverse aspects of family medicine.
Future of Care
The Future of Care: WCM Chapter is a student group interested in the development of new methods and technologies in order to improve healthcare and clinical practice. Our goals include (1) educating students and clinicians about technologies relevant to medical practice, (2) fostering technology entrepreneurship at Weill Cornell, (3) creating collaborations between inventors and clinicians within Weill Cornell and the greater NYC community. In conjunction with Future of Care NYC, we achieve these aims through hosting public conferences, skill workshops, and seminars.
Infectious Disease Interest Group (IDIG)
The main goals of IDIG are to provide information about careers in infectious diseases, present infectious disease talks/discussions, and facilitate interaction between WCMC students and infectious disease services at NYPH, MSK and HSS. We'd like for the group to be of interest for students pursuing any field. For this reason, we're planning to have talks/discussions of broad interest (eg. intersections between infectious diseases and psychiatry, surgery, etc.). Finally, we're considering the feasibility of community service projects, such as vaccination awareness/myth buster events etc. 
Internal Medicine Interest Group (IMIG)
The Internal Medicine Interest Group (IMIG) is a student organization focused on supporting students interested in going into internal medicine and related specialties.  To facilitate this, the IMIG holds a talk in the fall on the various specialties and practice options stemming from internal medicine, workshops on practicing internal medicine, and various networking events associated with 4th years and Internal Medicine faculty.
Joseph M. Lane Orthopedic Society (Ortho)
The Joseph M. Lane Orthopedic Society is essentially an Orthopedic Interest Group that aims to serve as a bridge between motivated medical students at Weill Medical College aspiring in careers in musculoskeletal disorders and the extraordinary resources offered by the Hospital of Special Surgery (HSS), a globally renowned orthopedic institution.  The organization provides a formal lecture series covering various aspects of the specialty ranging from sports medicine, trauma, and spine to the residency application process.  The organization also works to orient medical students to HSS and provide a means for them to gain clinical experiences through shadowing opportunities.  One of the goals of the organization is to promote research in the field by providing tours of hospital laboratories and helping to pair medical students with HSS research mentors for both summer and long-term commitments.
Obstetrics and Gynecology Society (COGS)
COGS is the student group with the goal of exposing medical students to the specialty of Obstetrics-Gynecology.  It aims to connect students with mentors in the Ob-Gyn department and to facilitate shadowing opportunities.  The group has monthly talks and events with guest speakers, movie screenings, and discussions. 
Oncology Interest Group
The WCMC Oncology Interest Group is a resource for students interested in exploring the many paths possible in fighting cancer, whether as clinicians - including medical, surgical, or radiation oncologists - or as researchers. We host panels with physicians and researchers, as well as book clubs, discussion groups, and research presentations by students. 
Ophthalmology Interest Group
The group provides opportunities for medical students to learn about the experience of being a practicing ophthalmologist. We help facilitate meetings with faculty from the Department of Ophthalmology and also set up presentations about subspecialties of ophthalmology. We also assist students in obtaining shadowing and research experiences.
Orthopedics Interest Group
The Orthopedics Interest Group aims to introduce both research and clinical opportunities in orthopedics to students at WCMC.  Events include orthopedics information session, HSS Summer Research Fellowship information session, and a match panel at the end of the year. 
Pathology Student Interest Group (PSIG)
The Pathology Student Interest Group (PSIG) gives students an opportunity to experience the breadth of behind-the-scenes patient care provided by pathologists every day. From intraoperative consultation to medical microbiology to autopsies, pathologists are key diagnosticians and an integral part of the New York Presbyterian/Weill Cornell Medicine community. PSIG hopes to facilitate interactions between students and pathology faculty, help promote pathology education through lecture series and board preparation sessions, and increase the awareness of pathology interaction with other specialties.
Pediatric Interest Group (PedIG)
The Pediatrics Interest Group (PedIG) promotes exploration of the vast opportunities in Pediatrics.  Past events have included a lecture series featuring the careers and specialties of pediatric academics, scientists, and clinicians, and an annual Pediatric Student Research Day to showcase student research in Pediatrics and allow students to meet the pediatric faculty at Weill Cornell. Towards the end of the year, PedIG hosts a Residency Match Panel where successful pediatric resident applicants from Weill Cornell discuss the Match process. The PedIG also facilitates the Kids in Chronic Care Support (KICS) program, which creates one-on-one matches between Weill Cornell medical students and children or adolescents currently receiving therapy. The focus of the KICS program is to provide support for the children and their families; it gives the kids an opportunity to form a close, consistent relationship with someone outside of their treatment team. 
Physical Medicine & Rehabilitation (PM&R) Interest Group
The Physical Medicine & Rehabilitation Interest Group aims to introduce students to PM&R and encourage students interested in exploring this field. Through lectures, seminars and community events we hope to bring together students, residents and faculty from Weill Cornell, Columbia and HSS to provide a network for students interested in PM&R. We have hosted an informational talk by current residents and a musculoskeletal ultrasound seminar. Future events include volunteering with Special Olympics, lecture series on the musculoskeletal physical exam and techniques in pain management.
Precision Medicine Interest Group for Medical Students
Precision Medicine is a new, evolving field in medicine and medical research that aims to tailor specific therapies, disease prevention, and clinical guidelines for individual patients by accounting for the variability in both their genetics and environment. While oncology has been the prototypical field for informatics and bioinformatics, precision medicine is a burgeoning field with significant implications in nearly all fields of medicine from cardiology, surgery, endocrinology, psychiatry, etc. This interest group functions to allow students to learn more about precision medicine and its impact in clinical medicine. Practically, this group aims to provide research and clinical faculty contacts in Weill Cornell and MSKCC to set up potential research projects as well as clinical shadowing opportunities. A data analysis/computer programming and quantitative medicine boot camp is also in the works for this year, as is a corresponding precision medicine elective for 3rd/4th year medical students. No experience in bioinformatics or computer programming is necessary, only, as the title suggests, interest! This student group is new and leadership opportunities are available.
Radiology Interest Group
The Radiology Interest Group is committed to fostering interest in radiology and the various subspecialties within the field. With a great deal of support and guidance from Dr. Robert Min, Chairman of Radiology at WCMC, we aim to facilitate relationships between faculty, students, residents, and researchers. Regardless of a student¹s interest in pursuing a career in radiology, our goal is to provide enough exposure to both enrich their studies and help inform their decision about choosing a career in medicine.
Sports Medicine Interest Group (SMIG)
The Sports Medicine Interest Group is a WCMC student group dedicated to cultivating student interest in the clinical and research aspects of sports medicine. The goal is to familiarize students with sports medicine as a specialty within Orthopedics, to integrate relevant aspects of sports medicine with the medical school's basic science curriculum, and to provide students a window into the current research and clinical practice of sports medicine. The group will also explore sports medicine beyond the scope of orthopedics to include topics in rheumatology, rehabilitation medicine, and other relevant fields.
Stimson Surgical Society (SSS)
Stimson Surgical Society (SSS) is a student-run organization primarily focused on supporting the development of compassionate, skilled surgeons at Weill Medical College of Cornell University.  SSS will provide full support for medical students interested in any field of surgical residency through mentoring programs, networking, and shadowing opportunities.  Demanding competition has long been a tradition for surgical residencies, requiring additional training for longer periods of time.  This can be an overwhelming process for students.  Through SSS, students will have access to honest, unfiltered information from current residents and surgeons.  Furthermore, in order to directly affect students in their endeavor, we hope to provide information and opportunities to strengthen students' standing in the residency match.  We will financially support attendance to surgical conferences throughout the nation, and networking opportunities for fourth year medical students by organizing clinical rotations at external academic institutions.  The Stimson Surgical Society wishes to facilitate the student-faculty relationship in order to determine interest in particular surgical fields, create connections for research, and educate the Cornell student body on the opportunities of surgery.  Importantly, surgical residency programs have been disproportionately filled by male applicants in the past.  We aim to decrease the surgery gender gap by providing information sessions held by female surgeons, and encourage candid discussion about life/work balances and raising a family.  The main goal is to demonstrate that the demanding schedule of third year surgical rotation does not necessarily correlate to the life of a surgeon.  By giving life examples and anecdotal accounts, we would hope to persuade female medical students to seriously consider surgery as an option for their future career if they had not already.  We hope to build SSS into a proactive club with a group of enthusiastic students who will fully take advantage of events and services to further their own and colleagues' growth.
Technology-in-Medicine at WCMC
Tech-In-Medicine is a group dedicated to the development of innovative technology to be implemented in medical education, clinic practice, inpatient services, OR, and/or medical/hospital administration. These tools for innovation include medical devices, mobile apps, and desktop software as just a sample. The prime mission of our group is to develop these tools within specific time frames with a interdisciplinary team of MD students, PhD students, and members of the community. Lectures will be given, and advisors present to provide guidance. Tools for development will be provided via: 3d printing access, programming advice, legal advice (and lectures in IP law), Arduino/RaspPi, CAD software, etc. Prior experience in tech development is absolutely not required. For projects that show promise, the opportunity to form a company around your idea is encouraged and support will be given.
Urology Interest Group
The purpose of this group is to foster interest in the field of urology at Weill Cornell Medicine. Students considering a career in urology or students wanting to learn more about the field are encouraged to join.
Vascular Surgery Interest Group
The Vascular Surgery Interest Group gives students an opportunity to interact with surgery in a hands on manner.  We have many knot-tying practice sessions, group meetings at SAIL, and the attendings involved are very attentive to involving medical students.  Regardless of being interested in Vascular Surgery specifically or not, this is a great opportunity to get more experience in surgery that will be valuable in later rotations, and beyond! 
Student Diversity Activities
Asian Pacific American Medical Students Association (APAMSA)
The Weill Cornell Medical College chapter of the Asian Pacific American Medical Students Association is a group that was formed to address the needs of the Asian American community at WCMC. The activities and interests of the group encompass the areas of community service, cultural and social events, and health issues affecting the Asian American community. Members develop strong relationships as they participate in various activities and meetings. In the past, the group has volunteered at the Chinatown Health Clinic and participated in the Women's Health Fair, in addition to making trips to Chinatown for Dim Sum. The group has also sponsored talks on Asian American issues given by Weill Medical College Asian faculty. Sponsored talks have included topics on traditional Chinese medicine and health care in China. Members have also attended APAMSA's national meetings, which are held in the fall and spring of each year. All are invited to participate in any of our meetings and events during the year.
Association of Native American Medical Students (ANAMS)
Native American physicians and medical students are largely under represented in today's workforce. Through this interest group, we hope to build a supportive community on campus, work closely with Weill Cornell diversity initiatives to help recruit more Native medical students, and raise awareness about the many health issues that Indian Country faces.  We also collaborate with Native students at other NYC medical colleges, Native organizations throughout NYC, and the national Association of Native American Medical Students organization.
Jewish Students Organization of Cornell (JSOC)
Since its inception in 1985, the JSOC has grown increasingly visible and active.  The group strives to assist students at Weill Medical College with the means to express themselves in a Jewish manner--whether this be religiously or culturally.  The JSOC has sponsored Chanukah parties, attended by a significant portion of the Weill medical college community.  It has hosted multiple Sabbath dinners that have been attended by hundreds of people throughout the years.  It has worked with the hospital in creating events open to both the Cornell and New York Hospital community.  The JSOC has sponsored meals and events in the hospital's Sukkah.  It has organized reading of the megillah and meals for Purim.  JSOC has hosted events for Rosh Hashanah and other Jewish holidays as well.  In its effort to foster cross-cultural understanding and tolerance, the JSOC has co-sponsored dialogue events with MECA (the Muslim Educational and Cultural Association) and CMF (the Christian Medical Fellowship) at Cornell.  With the world of New York City right at hand, the JSOC has definitely benefited.  Members have participated in Salute to Israel parades, services in various synagogues throughout the city, gotten together for dinner at many of the city's kosher restaurants, attended lectures and conferences on Jewish bioethics, and attended Purim parties throughout the city.  So that Weill Medical College students can take advantage of what's available, the JSOC tries to stay abreast of events around the city.  Students, faculty, staff, and applicants:  keep an eye and ear out for fliers and announcements for upcoming events.
Latino Medical Student Association (LMSA)
LMSA is an organization, which works in conjunction with the SNMA (Student National Medical Association) in order to make students aware of health disparities among underserved communities.  Our particular goal is one of outreach to the Latino community.  We attempt to expose our fellow classmates to the health risks that predominate within the Latino population, create mentorship between students and Latino faculty, and support each other as a community here at Weill Cornell.  In the past we have sponsored movie screenings, faculty/student mixers, and salsa dancing.  Our hope is that everyone at Weill Cornell can in some way enjoy el sabor (the flavor) of what it means to be Latino.
Muslim Students Association of Weill (MSAW)
The Muslim Students Association of Weill is a group for students, both Muslim and non-Muslim, who wish to explore Islam, learn more about it, and enjoy the company of other health professional students who may share similar drives and challenges.  The climate of the world today is a scary one and now, more so than ever, communities like this are paramount to shedding light on who Muslims really are.  Our activities will range from casual get togethers to holiday celebrations to in-depth discussions about Islam as a faith, and in the context of healthcare and of the world at large.  This is a club for everyone and we'd love to have you!
Q! Queer Health Alliance
LGBTQ is a group for lesbian/gay/bisexual/transgender/queer (LGBTQ issues within the medical school community, facilitate contact with LGBTQ faculty, provide social and professional networking opportunities in the NY region, and advocate for open dialogue with the administration about LGBTQ issues in the curriculum.  Previous activities have included an LGBTQ medical professional panel, welcome mixers, citywide medical school and graduate school socials, lectures about LGBTQ-related topics, and support for conference participation.
Student National Medical Association (SNMA)
The Student National Medical Association (SNMA) is a national medical society founded in 1964.  The Cornell chapter is one of over 120 chapters throughout the U.S. addressing the issue of disparities in healthcare.  Our goals are multiple:  to create an atmosphere of fraternity and academic excellence on campus; to promote the dissemination of information relative to social issues in medicine; to increase recruitment, admissions, and retention of a diverse medical student body; to promote programs for disadvantaged youths to encourage their entrance into the health professions; and to provide service to those most in need.  In the past, we have reached out to the community, sponsoring the Pre-med Conference for High School and College Students, organizing our annual health fair in Harlem, hosting prospective students, and initiating a national education program for high school sophomores interested in biomedical sciences (HPREPST1). Other pipeline programs under SNMA include Cornell Kids, SMEP, and WCYSPST2. We welcome all who are interested in the goals of our organization and look forward to seeing you at upcoming functions and activities.
Students for Equal Opportunity in Medicine (SEOM)
Students for Equal Opportunity in Medicine (SEOM) is an umbrella organization that represents the voice of many groups that are underrepresented in the field of medicine.  SEOM is open to all students committed to furthering access to health care and medical careers for all minorities.  SEOM recognizes regional and national medical organizations.  SEOM is also dedicated to helping those of our underserved communities including hosting the pre-medical conference.  We welcome all students to join us in our cause.
WCM Christians in Medicine
The WCM Christians in Medicine is a group of students at Weill Cornell Medicine (WCM) committed to learning and growing together, both in our careers and in our Christian lives. Led by a teaching fellow with Christian Union, we aim to have a warm and welcoming group where we can discuss how our faith impacts and shapes our lives in very real ways. Anybody from WCM is welcome: med, grad, PA, nursing, or other. The more the merrier and the richer the discussion! Please join us whether you grew up in the church, are new to the faith, or are just curious to learn more.
Women in Medicine
The Weill Cornell Medical College's Women in Medicine (WIM) student group that seeks to bring female students and faculty members together at WCMC to provide a platform for our members to communicate and address unique challenges women face in the field of medicine. We aim to inspire, encourage, and enable female students to realize their professional and personal goals through programming such as forums, discussion groups, regional conferences and community outreach. WIM currently consists of three core components: Interest Group, Mentorship Program, and High School Outreach Program. Each serves to offer a distinct perspective about the importance of peer and formal mentorship during all stages of training. In addition, as a chapter of the National American Medical Women's Association (AMWA), we support their goals to promote the advancement of women in medicine and improve women's health.
Policy and Advocacy
APSA: American Physician Scientists' Association - Tri-Institute Chapter
APSA strives to be the student physician-scientists' leading voice for improving educational opportunities, advancing patient-oriented research, and advocating for the future of translational medicine.
Objectives – Focusing on the needs of students and housestaff, including all physician-scientist trainees, APSA will pursue being:
The leading student organization for advancing opportunities for mentorship, community building, and mutual support of physician-scientists;
The principal source for obtaining and disseminating career development information for student physician-scientists regarding education, residency training, and beyond;
The most representative voice and influential advocate to policymakers and the American people regarding the need for supporting physician-scientist training;
A dynamic organization that provides value to its members.
Global Health Collective
The Global Health Collective serves two purposes with the first focus being on the support of the Global Health Curriculum.  The Global Health Curriculum launched in 2009 as a student-driven combination of supplementary elective courses, fieldwork, and experiential learning. With the engagement of faculty, staff, and students, the curriculum is now an official Area of Concentration and certificate granting program. The Global Health Curriculum provides opportunities for students to engage with resource-poor communities, internationally and domestically, as well as opportunities for students to discuss current topics in global health with leaders from many disciplines. The second focus is that the Global Health Collective gathers students together to discuss current global health events, participate in journal clubs, and organize citywide conferences. Students are encouraged to participate in any and all aspects and to take a leadership role on the Student Board. More information on the curriculum can be found at http://weill.cornell.edu/globalhealth/education/gh-curriculum/.
Medical Students for Choice
Medical Students for Choice is an international non-profit organization that works "to destigmatize abortion provision among medical students and residents, and to persuade medical schools and residency programs to include abortion as a part of the reproductive health services curriculum" (©MSFC, 2016). The Weill Cornell chapter of MSFC advocates for medical education reform, focusing on inclusive, comprehensive gynecologic education to prepare medical students with evidence-based skills. We host Family Planning and Abortion lectures, pursue curriculum reform, and host hands-on clinical workshops that simulate procedures like IUD insertion and no-scalpel vasectomy.
Peer Educating Our Peers Learning from Each Other (PEOPLE)
Peer Educating Our Peers Learning from Each Other (PEOPLE) is a student organization dedicated to improving intercultural relations among medical students. Our ultimate goal is to foster the most positive training environment for all members of our diverse student body. We delve into topics that while difficult to discuss, when acknowledged, have the capacity to enhance relations and collaborative efforts among all of our students, regardless of their background and/or identity. By doing this, we hope to create an academic environment that brings the best out of all of our future physicians and physician-scientists.
Physicians For Human Rights (PHR)
Physicians for Human Rights is a national organization of physicians and health care providers that believe in the important role health workers play in ensuring the preservation of human rights around the world.  The Student Chapter was started here at Cornell in 2003, by a first year student who decided that Cornell was ready to be involved in this important work.  The group quickly grew and this year was involved in AIDS awareness week, bringing in speakers for the Cornell community and advocating for increased human rights awareness in the curriculum.
Students for a National Health Program (SNaHP)
Students for a National Health Program (SNaHP) is the student arm of Physicians for a National Health Program, an organization advocating for a comprehensive single payer health program in the US. We believe that a single payer system would allow physicians and the other members of the health care professions to provide better quality care to all people while increasing efficiency and dramatically reducing costs. The WCMC chapter of SNaHP works to educate ourselves and our peers on the current US healthcare system as well as the single payer solution and to build support amongst our community for universal health care.

Fitness and Wellness
Ballet Interest Group
The Ballet Interest Group is committed to offering access to the performing arts, specifically classical and contemporary ballet. The primary goal of this group is to offer beginner ballet classes to introduce basic techniques and terminology to students at WCMC. Not only is this intended to help enrich the experience of students who attend dance performances, but it can also serve as an alternative approach to studying functional anatomy. Additionally it has the potential to improve future doctor-patient interactions with performing artists by introducing the culture, language, and perspective of the dancer. In coordination with the Office of Student Affairs, groups of up to 50 students have attended world-renown companies such a New York City Ballet, Alvin Ailey, Parsons Dance, and Juilliard performances among others.  
Basketball Interest Group (BBIG)
For newcomers and grizzled veterans alike, anyone with an interest in playing basketball should join the Basketball Interest Group.  We organize pickup games once or twice a week, and organize class-wide basketball tournaments and March Madness bracket competitions. 
ChefED
The ChefED seminar aims to use culinary and nutritional education to help medical students become role models for their future patients. This seminar creates a hands on, educational environment in which students can learn directly from guest chefs and guest nutritionists how to improve their own health behaviors and how to counsel patients to do so as well.
Cornell Capoeira
Cornell Capoeira is a group of students and housestaff dedicated to learning capoeira, a Brazilian martial art that encompasses music and acrobatics commonly known as "dance-fighting". We are lucky enough to practice the art with world renowned instructor Mestre Carioca of Carioca Capoeira, and host and attend several nationwide showcases throughout the year. Classes are held on Tuesdays and Saturdays in Olin gym - no experience is necessary and the first month is free for Cornell students!
www.cariocacapoeira.com
Cycling Club
The Weill Cornell Cycling Association is a recreational cycling group for riders of all skill and fitness levels. We plan to lead weekly rides through central park and other bike friendly routes in New York, as well as a couple significant rides out of the city throughout the year. If there is enough interest, we may split rides into A and B groups depending on experience, and we may have more than one ride a week. It is likely that the rides will happen on Sunday afternoons, however we are extremely flexible. Times and a meeting place will be emailed (and posted on the class of 2016 Facebook group) to all members before the rides. 
Dodgeball Interest Group
The Dodgeball Interest group allows students to compete in a fun distraction from Medical School.  Get to know your classmates outside of the classroom and let out all of that pent up stress that has accumulated.  There will be games two to three times a week starting around late October into November.  Teams are coed and six can play at a time.  Look for e-mails and start recruiting a team.  See you out there.
Martial Arts and Grappling Interest Club (MAGIC)
Martial Arts and Grappling Interest Club (MAGIC) was founded to provide resources and instruction for students interested in practicing grappling-based martial arts such as judo and BJJ. Students of all levels are welcome to check out mats for practice or participate in intro workshops throughout the year with topics including self-defense, throws, trips, and mat work. Meetings are held in Olin gym.
Mindfulness Meditation Wellness Club 
The Mindfulness Meditation Wellness Club at WCMC hosts regular sessions on Mondays night. These sessions involve meditations exercises that integrate mindfulness into daily life. Themes covered include awareness of thoughts and feelings, dealing with difficulties and self-acceptance. No prior knowledge or practice of meditation are required. Everyone is welcome! 
Peers Advocating Wellness (PAWs)
Peers Advocating Wellness are medical and graduate school students who volunteer to provide an empathetic, non-judgmental ear to their peers. We come from different racial, economic, and ethnic backgrounds. We pursue different interests and goals, live in different places—on and off campus—and engage in different educational tracks at Weill Cornell Medicine. We all want to help other students at Weill Cornell. Each Wednesday and Thursday from 6-9pm, two PAWs staff a room in the Center for Integrative Medicine (a short walk off campus at 338 East 66th Street, next to Java Girl coffee). You don't need an appointment. Just drop by! And, we won't record your name. PAWs maintain strict confidentiality, meaning we do not tell friends, administrators, or faculty about what we talk about. Even if you don't feel like talking, but just want a break, come sit down and relax with us. Although PAWs is a volunteer organization, each PAW has received extensive training and practice in a client-centered counseling style called motivational interviewing. We are prepared to hear about a variety of concerns and issues, large or small. You guide the conversation with whatever is on your mind and we will never criticize or pass judgment. Though we do not claim to have specific answers, we are committed to hearing you and caring about what you have to say. We believe that it just helps to talk to someone sometimes.
Website: http://studentservices.weill.cornell.edu/student-life/wellness
Weill Football Club
An organization dedicated toward promoting teamwork and healthy living through soccer. Weill FC plays intramural games throughout NYC against other young professionals and graduate students. Our team is co-ed and all students of all levels and backgrounds are welcome to join us.
Weill Cornell Running Club
Weill Cornell Running Club provides students with opportunities for group runs with faculty and fellow classmates.  We hope to promote connections between students and faculty by offering them a chance to socialize outside of the academic environment.  In addition, we encourage students to pursue healthy behaviors and learn about the NYC running world. 
Leisure
AneuRhythms
The WCMC AneuRhythms are the college's premiere (and only) a cappella group. We perform at open mic nights, fundraising events, and have even performed at WCMC events for some of the college's most prominent donors – and we are always looking for new opportunities to get out there and share our music! All members of WCMC are welcome, and during the regular school year we rehearse once a week.
Ascensus, Journal of Humanities
Ascensus is Weill Cornell Medical College's annual journal of the arts and humanities. It was founded by a group of medical students in 2011 to provide a space for students to reflect on the practice of medicine. Since then, it has grown to feature work from all members of the Weill Cornell community, including faculty, house staff, medical students, graduate students, nurses, social workers, and more. Over the past five years, Ascensus has featured rich visual, written, and multimedia work by many members of the Weill Cornell community. The editorial team takes pride in the quality and diversity of the work showcased each year and hopes to continue serving the community through this publication for many years to come.  We believe that this journal provides an important voice for members in our community as we come in contact with patients and their stories, and think of our own.
Cholesterol Mafia
We are a Weill Cornell funded baking club! Over the last year, we made and decorated cookies, cakes, pies, and other pastries for class wide events (the Halloween and holiday party, and an end of year party). We also partnered with ChefED and led a baking tutorial. Part of the fun of Cholesterol Mafia, however, is the freedom to structure the group as you decide and partner with other Weill groups.
Medical Chinese
Our group aims to familiarize interested medical students with common medical Chinese phrases and current cultural issues with the goal of improving cultural sensitivity and gaining the capacity to converse more easily with Chinese-speaking patients. We offer both beginning and advanced Medical Mandarin courses as well as an advanced Medical Cantonese course each semester to accommodate a wide variety of interested students. We also host several cultural and social events each semester, including dumpling-making parties and China-related trivia competitions.
Music and Medicine Initiative
The Music and Medicine Initiative encourages medical students, physicians, and musicians to explore the connections between music and medicine, through collaborations with The Juilliard School and the 92nd Street Y.  With the support of Dr. David Shapiro and Dr. Richard Kogan, and a generous gift from the Block Family Foundation, the program sponsors a number of programs including: 
- Established groups like the Weill Cornell Music and Medicine Orchestra, the Weill Cornell AneuRhythms a cappella group, chamber ensembles, and jazz ensembles.
- Seminars exploring topics such as synesthesia, perfect pitch, and music therapy
- Funding for new musical equipment
- Opportunities for students to play at graduation and Weill Cornell events
- Yearly benefit concerts for organizations such as GHESKIO in Haiti, Kokoro no Care in Japan, and Weill Cornell Community Clinic
- A mini-concert series for inpatients at New York-Presbyterian Hospital in collaboration with the palliative care service
- Music lessons from Juilliard students for Weill Cornell students
- Seminars on performing arts medicine for Juilliard students
- Partnerships with New York community organizations such as Music that Heals and Music for Autism. A growing program, future goals of the Music and Medicine Initiative include establishing a semester-long elective for medical students, and exploring the idea of music and medicine in global health. Website: http://weill.cornell.edu/music/
Ski Club
The Weill Cornell Ski Club goes on an annual weekend trip to a New England-area ski resort. For the last two years the group has gone on a road trip to Sugarbush Mountain, VT. As an MSEC-funded group, the Ski Club is able to subsidize the cost of this trip to make it more affordable to students. Students who have gone have used such terms as "life changing," "just so much better than being holed up in the anatomy lab for the weekend," and "wow."  Students who have gone on the trip have ranged in skill from avid lifelong skiers to beginning enthusiasts as well as those who just like the idea of hanging out in a mountain lodge for the weekend. Snowboarders welcome (encouraged actually, because it's straight up more fun). 
Weill Cornell Arts Club
Weill Cornell Arts Club is an interest and service group for all those interested in art and creative expression.  Through events like paint nights, photography tours through Central Park, chocolate making, and cupcake decorating, Weill Cornell Arts Club will help you improve your skill in different mediums and send you home with something handcrafted!